---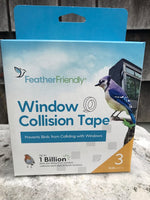 300 ft. of Window Collision Tape along with everything you need to get started preventing window collisions at home! Included:
Collision tape
Instruction sheet
Squeegee
Two paper measuring tapes
*Please note that each roll of collision tape is 100 ft. long, which is enough to treat 30" x 80" of glass.
By shopping in our Nature Stores, you are helping Maine Audubon further our mission: to conserve Maine's wildlife and wildlife habitat by engaging people in conservation, education, and action.