---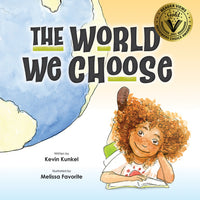 The bad things that happen
Are easy to see
But the world's getting better
With people like me!
This book teaches children that the world is mostly improving, and that the way to make sure it continues is to pay attention to the good all around us.
Cable news often reports on the bad things that happen every day, but we can choose a positive story and make it a reality. In this book, the rhyming story and light-filled illustrations focus on positive things like renewable energy, improved literacy, and better technology to stay close to the ones we love.
 The World We Choose focuses on the good things about our planet and encourages—and empowers!—kids to make our future even brighter. This uplifting children's book reminds us all that we can choose a better world.
Kevin Kunkel believes people are good. He hopes his books help unlock that goodness. He lives in Minnesota with his wife and two boys, which means he can never see a movie featuring snow without commenting that "Hollywood doesn't understand real cold." Kevin is a former stand-up comedian and writes humor for adults on his parenting blog DadHard—"the hardest dad blog on the planet."
Melissa Favorite enjoys balancing the dance between writing and illustrating. She gathers inspiration from an adventurous childhood with six brothers and sisters. Today, she lives in Minnesota, planning new adventures with her husband and toddler. Melissa has a BFA in illustration from the College of Art and Design in Saint Paul, Minnesota. She is the author-illustrator of Tide Day and the illustrator of other titles including Who Cooks for You?, Who Sees Your Scrunchy Face?, and Growing Young Spirits.