---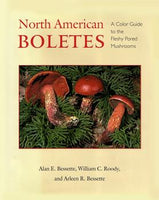 North American Boletes is the first comprehensive guide to an extraordinary and highly prized group of mushrooms known for their beautiful colors, distinctive features, relative abundance, and ­edibility.
The scope of this work goes beyond the identi­fication of species. The authors consider the sym­biotic relationship boletes share with higher plants and trees, their geographical ­distribution, and new information regarding the macrochemical test reactions of the boletes; they also describe several new species.
The book's unique combination of aesthetically appealing and scientifically accurate color photographs coupled with extensive descriptions makes it a standard reference work for bolete identification in North America. Special Features of the Book include: More than 450 color photographs illustrating more than 300 species Descriptions with accurate, updated nomenclature and a comments section that includes information on look-alike species and field observations.
Easy-to-follow keys constructed for both eastern and western North America that emphasize macroscopic features Nontechnical language and a glossary that make it an indispensable guide for professional as well as amateur mycologists Information on collecting, cooking, and ­pre­serving boletes