---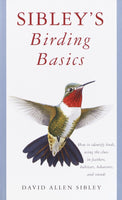 The Sibley Guide to Birds
and
The Sibley Guide to Bird Life and Behavior
are both universally acclaimed as the new standard source of species information. And now David Sibley, America's premier birder and best-known bird artist, turns his attention to the general characteristics that influence the appearance of all birds, unlocking the clues to their identity.
In 200 beautifully rendered illustrations and 16 essays, this scientifically precise volume distills the essence of Sibley's own experience and skills, providing a solid introduction to "naming" the birds. 
Birding Basics
reviews how one can get started as a birder--the equipment necessary, where and when to go birding, and perhaps most important, the essential things to look for when birds appear in the field--as well as the basic concepts of bird identification and the variations that can change the appearance of a bird over time or in different settings. Sibley also provides critical information on the aspects of avian life that differ from species to species: feathers (color, arrangement, shape, molt), behavior and habitat, and sounds.