---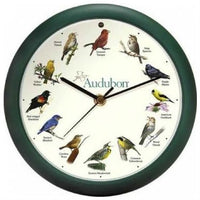 Learn your bird songs every day with the Singing Bird Clock!
The Audubon Singing Bird Clock features bird songs recorded by the Cornell Laboratory of Ornithology. Starting at 12:00: Summer Tanager, Song Sparrow, Purple Martin, American Goldfinch, Wood Thrush, Common Yellowthroat, Eastern Meadowlark, Carolina Wren, Eastern Bluebird, Red-winged Blackbird, Yellow Warbler, Hermit Thrush. Green plastic rim; 13″ diameter.
Birds sing authentic songs at the top of each hour.
Light sensor silences birds if room is dark.
Requires 3 AA batteries, not included.