---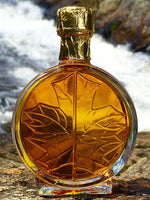 100% pure sustainably-harvested maple syrup from Maine.
"With the Modern Maple Bottle, we honor our heritage and remember the gift of the Maple Tree. Maple syrup has always been a part of our natural diet nurturing the bodies of the Passamaquoddy people throughout our long history. This timeless bottle looks great even after the syrup is all poured."
About Passamaquoddy Maple
Throughout the history of the Passamaquoddy people, we have lived off of the land. One of our Indigenous food gathering methods included harvesting the sweet sap from the Mahgan (Sugar Maple).
In 2013 the Passamaquoddy Tribe created an economic development project to tap into this traditional natural resource: maple syrup. Owning more than 65,000 acres in northern Maine, where the predominant tree species is Mahgan (Sugar Maple), we have an abundant resource to harvest, however we have lacked the funding to purchase equipment, hire staff to take our product to market.
Through the diligence of many, especially tribe leadership, in 2014 we raised enough funding to break ground and purchase sustainable tapping equipment to build sugar houses and raise a bottling facility, all on our tribal land in Prentis Township and Moose River Maine.
Since our operation began we have tapped over 10,000 trees and produced over a thousand gallons of maple syrup, we have also created 6 seasonal and full-time jobs for the Passamaquoddy people.
We strive to produce the best Grade A quality of Maple Syrup, and are proudly organic certified by the Maine Organic Farmers and Growers Association. We would like to personally thank you for purchasing Passamaquoddy Maple Syrup, and your gracious support for our venture.
By shopping in our Nature Stores, you are helping Maine Audubon further our mission: to conserve Maine's wildlife and wildlife habitat by engaging people in conservation, education, and action.