---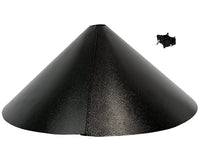 Keep squirrels off of your pole mounted bird feeders with the Audubon 18" Wrap-Around Squirrel Baffle. This baffle's innovative design allows you to attach it to bird feeder poles after they have been installed rather than before attaching your feeder. This proven, practical baffle protects both your birds and their bird seed. The durable, powder coated finish will maintain its subtle matte black color and quality, season after season. This baffle is designed to fit poles with 0.5" to 1.375" outside diameters.

Post mounted squirrel baffles are most effective when placed 4'-5' from the ground on pole and feeder assemblies that are at least 10' to 12' from any low hanging tree branches or structural overhangs such as deck rails or buildings.
By shopping in our Nature Stores, you are helping Maine Audubon further our mission: to conserve Maine's wildlife and wildlife habitat by engaging people in conservation, education, and action.