---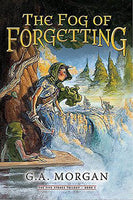 There's nothing like a foggy island to capture the imagination.
While on vacation in Maine, five kids take the family sailboat out for a spin without permission and end up on the mythical island of Ayda, where the Melorians are at war with the Exorians. It's all because evil Dankar, an Exorian, wishes to possess the four stones of power that are kept in balance on Ayda, as well as a missing fifth stone, which enhances the power of all of the stones put together. The wandering sailors are the Thompson brothers—Chase, 13; Knox, 12; and Teddy, 6—and sisters Evelyn and Frankie Boudreaux, 13 and 9, respectively. All are well-aware that years ago, the boys' uncle Edward disappeared one summer while sailing. Morgan's ambitious debut novel, the first book in the Five Stones Trilogy, has a mildly British feel to it, with vague nods to Swallows and Amazons and Harry Potter. While occasionally bogging down in detail, the story is infused with philosophy about the circular nature of life and loss, as well as personal power, offering just enough intrigue to pique interest for the next book in the series.
By shopping in our Nature Stores, you are helping Maine Audubon further our mission: to conserve Maine's wildlife and wildlife habitat by engaging people in conservation, education, and action.